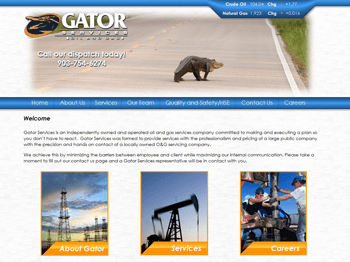 Project Info
Gator Services is an independently owned and operated oil and gas services company committed to making and executing a plan so you don't have to react.  Gator Services was formed to provide services with the professionalism and pricing of a large public company with the precision and hands on contact of a locally owned O&G servicing company.

Gator Services achieves this by minimizing the barriers between employee and client while maximizing their internal communication.
Being in business since 1998, some clients will come and go. That doesn't mean we aren't proud of the work we did when they were with us. This project is shown for historical purposes.