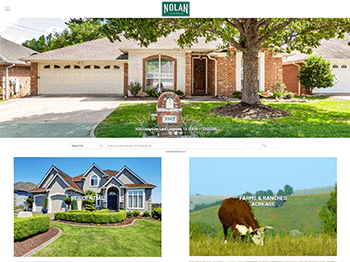 Inhouse Associates made our vision into a reality
We were blown away by the attention to detail and ability of the Inhouse team to make our vision into a reality for our website. We had a very specific goal and an idea of what we wanted our site to look like: clean, sleek, and easy to navigate. The Inhouse team worked closely with us to ensure we were always on the same page and was very transparent throughout the entire process. We wanted to find a local company that could help us so that we could meet in-person and work collaboratively. We highly recommend Inhouse.
Scott Nolan
Broker
Nolan Properties LLC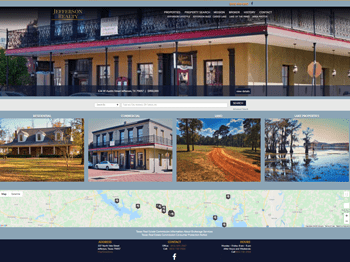 Professional, friendly, affordable, and VERY responsive
My company chose InHouse to do our website revamp/redesign and we could not be any more pleased with the exceptional quality of service we have received. Everyone works as a team and is very responsive. I cannot say enough good things about InHouse. Professional, friendly, affordable, and VERY responsive...I mean what more could you ask for? 10+ stars!
Jess Deware
Realtor
Jefferson, TX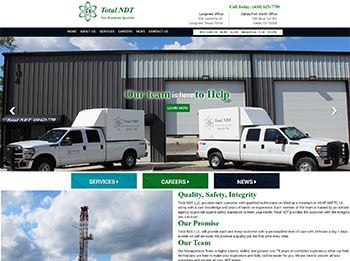 Working with the Inhouse team was a great experience.
Working with the Inhouse team was a great experience. Joannie answered every question and fixed every issue I had within minutes. They definitely are a great team to work with.
Matt Burris
CEO / President
Total NDT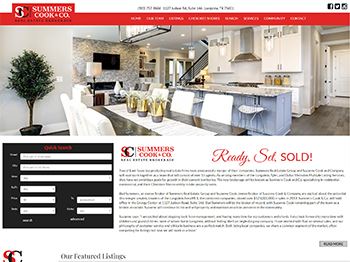 I've always been impressed with their work
I have used Inhouse Associates in the past and I've always been impressed with their work, customer service, and creativity. We were in need of a new website as well as combining another site. We also wanted company email addresses set up. Inhouse went out of their way to help us design an awesome website and do it in a short timeframe. They met with us multiple times and gave us a great class on how to use the site. I would say that you will have an outstanding experience and that Inhouse will help you achieve the results you are looking for.
Bud Summers
Broker/Owner
Summers Cook & Co.
Real Estate Brokerage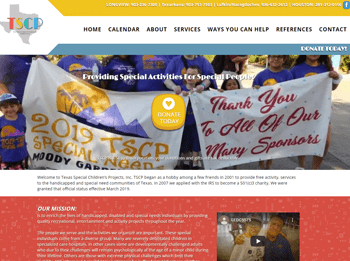 Texas Special Children's projects would like to say a big thank you to Inhouse Associates

The board of Directors of Texas Special Children's projects would like to say a big thank you to all of the associates at Inhouse Associates for a great job on make us feel good doing our website. We have had a website with them for a while and they have always been good at keeping our website calendar and making the needed changes. This year we wanted to upgrade our site and Joannie and everyone there was so helpful and working hard to get it up and running. Our new website looks more professional than ever before. I would tell everyone to use Inhouse Associates for their website company.
Billy Hill
Vice President
Texas Special Children Project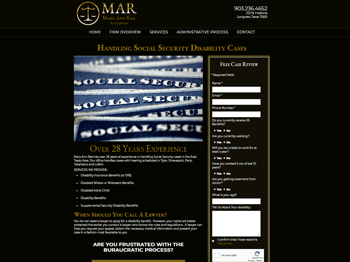 Inhouse Associates helped me every step of the way.
I wanted a website to help expand my business. I contacted Inhouse Associates and they helped me every step of the way.
Mary Ann Rea
Social Security disability attorney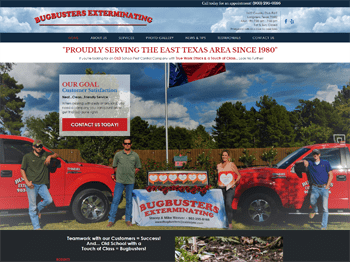 After being in business for over 30 years and being so passionate about educating our customers we decided it was time to build a new website.
After being in business for over 30 years and being so passionate about educating our customers we decided it was time to build a new website. With several years of ideas running through our heads and us not knowing for sure which direction to go in we knew we had to find a company that had many years of experience under their belt to help us bring our ideas to life. After researching we found that Inhouse had built websites for some of our customers so we knew we were on the right track so we set up our first meeting. During our first meeting with Inhouse we realized how informative, creative, sincere and passionate they were about wanting to help us build our new website therefore we knew we were hiring the right company. From the very first meeting to the day that our site went live the entire staff down at Inhouse was amazing, they were quick to respond to any and all questions during the building process and did an outstanding job of putting our ideas to work. A special thanks to Joannie for helping us to expand on our ideas and build a website that we are all so very proud of! If you're looking at hiring a company to help you build your new website and not sure…….Just take a look at our website and you can see how good they really are.
THANK Y'ALL!!!!
Stacey and Mike Weaver
Bug Busters Exterminating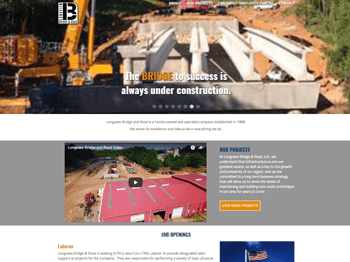 Needless to say I was clueless
This is the first time I've ever been involved in creating a website so needless to say I was clueless.  But, I had an idea of what I wanted the site to look like and what information to include.  I just didn't know the mechanics of it.  Both Steve and Joannie were extremely patient in answering my questions, making changes and even a few additions.  I didn't have a clue how time-consuming creating a website is … and we hired them to do 3 websites for 3 different companies.  After the first, it went much quicker but it was a huge learning experience for me and management is very pleased with the results.  Not only were Steve and Joannie very patient but their creative expertise was invaluable. 
Donna Leidecker
Longview Bridge & Road Ltd.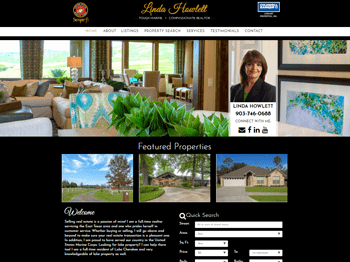 Linda Howlett, REALTOR®
Having been in real estate for several years now, I felt it was time to have my own website designed.  I chose Inhouse Associates because they were highly recommended by several of my colleagues and I'm so glad I did!  Inhouse Associates took the time to sit down with me and go over my likes, dislikes and what my expectations were of them.  Any time I had a question or needed clarification, Steve, Joannie or Amy were there for me.  My website looks fantastic and I'm extremely proud of the way they designed it.  I would highly recommend them to anyone looking to have a website designed! Thank you Inhouse Associates!
Linda Howlett
REALTOR®
Longview, TX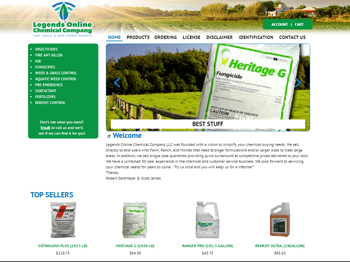 Legends Online Chemical
When setting up my own new business I wanted to make sure that I did everything right the first time. After careful review I decided to go with Direct Incorporated to setup my new company. This was a turn key LLC "Limited Liability Company" Program for a one lump sum amount of money. I was very pleased with everything they provided except for constructing the Website. Everything was backward and then I remembered a few years back I used Inhouse Associates to design my first Website, the more I thought about it the more I remembered just how awesome the Inhouse Associates Team was. My goal on the first Website was to take away the customers fear of ordering online and using credit card. I experienced no problems with their designing the website, building the program and links and I never worried about them having any of my personal information! This is exactly the experience that I wanted again. Steve Gordon, Joannie Houser, and staff are true professionals and they are committed to building you a awesome product! I am even more please the second time around. Why because I was spending someone else money the first time and this time I was spending my own money. I was extremely please with my second website when it went live. If you are on the fence about who too build your next website well let me personally recommend Inhouse Associates!
Legends Online Chemical
Robert Seidmeyer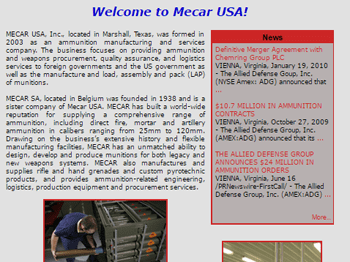 Inhouse Associates delivers quality websites
Inhouse Associates delivered a quality website that met our needs rapidly and at a very reasonable price. They can build simple websites or very complex websites with data handling, document control and intranet communications.
I can wholeheartedly recommend Inhouse Associates for anyone needing website design and development in the East Texas area.
Steve Dart
Chemring Millitary Products
Formerly Mecar USA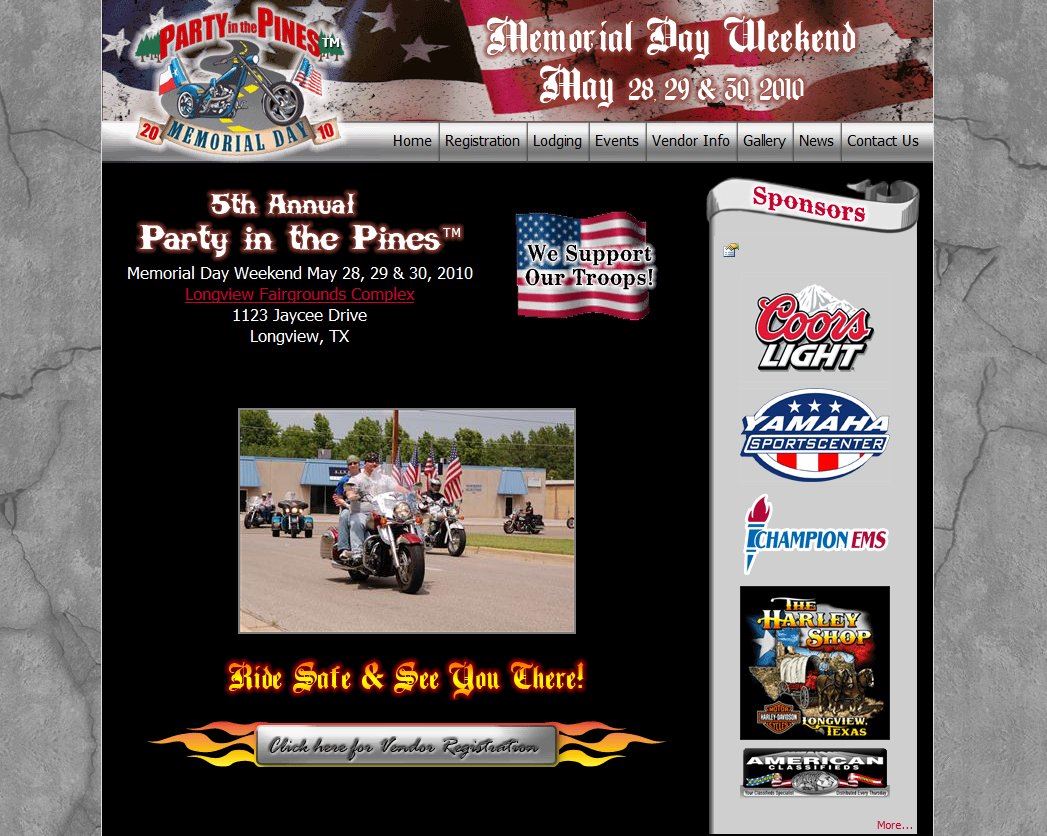 Inhouse is the BEST!
Inhouse Associates is the best! You are accessible, easy to contact, prompt in response or problem solving and always communicate effectively if a task is completed or not.

I have enjoyed our years working relationship and feel fortunate to have a company of your caliber in our community.

The League of Business Owners not only wants to bring revenue to our area, but also to keep revenue in our area.

Again, thanks for your help and support of Party in the Pines Motorcycle Rally.
Jana Smith
League of Business Owners
Pinerally.com Motorcycle Rally Site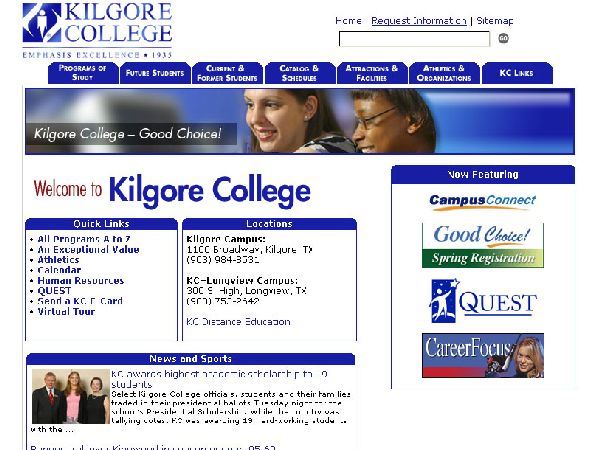 Choosing Inhouse Associates was a wise decision.
I have been quite pleased with my association with Inhouse Associates. They have worked closely with the college to give us a very effective and comprehensive database-driven website at an extremely reasonable cost. At every stage in the process, from initial discussions to implementation to ongoing maintenance we have found them to be knowledgeable and responsive to our needs. Choosing Inhouse Associates was a wise decision. 
Bill Gibbs
Former Director of Marketing
Kilgore College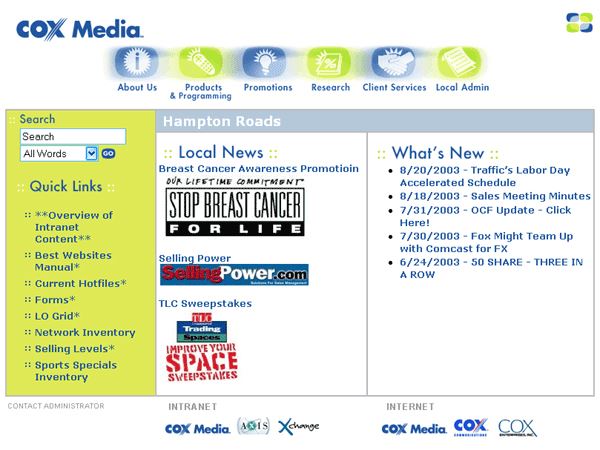 Easy to Manage
Inhouse Associates developed our company wide Intranet site, meeting all of our time constraints and functional needs while staying within our budget. The site is easy to manage and to navigate for our users. When questions or requests arise, Inhouse Associates is always there to help find a solution. 
Meredith Mattice
Intranet Administrator
Cox Media Intranet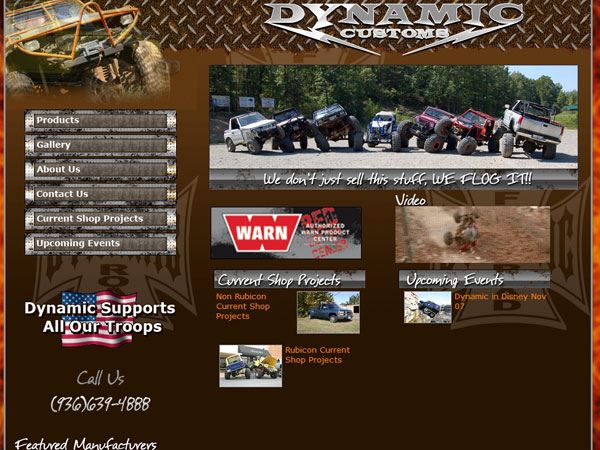 Providing the best service possible! A+
After several unhappy experiences attempting to have some companies design and assemble a web site for my company,  Inhouse Associates surpassed all others 10 fold with the experience I received with my web site. Inhouse Associates has gained my full trust and confidence in providing the best service possible! A+
Cody Consford
Dynamic Customs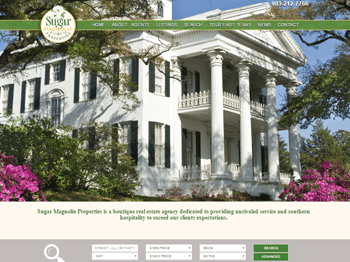 A professional, visually appealing, modern website was crucial
In starting a new real estate brokerage, Sugar Magnolia Properties, I knew having a professional, visually appealing, modern website was crucial. After working with Inhouse Associates through other avenues prior, I knew they would do a fantastic job in helping me achieve that goal.
Inhouse was super easy to work with, and created a website Sugar Magnolia Properties is proud of. The timeframe from our initial consultation to completion was very fast. Joannie, Amy and Steve were incredibly responsive, and handled all follow-up changes and additions with promptness and care. I couldn't be happier with the results.
Melanie Northcutt Crocker, Broker
Sugar Magnolia Properties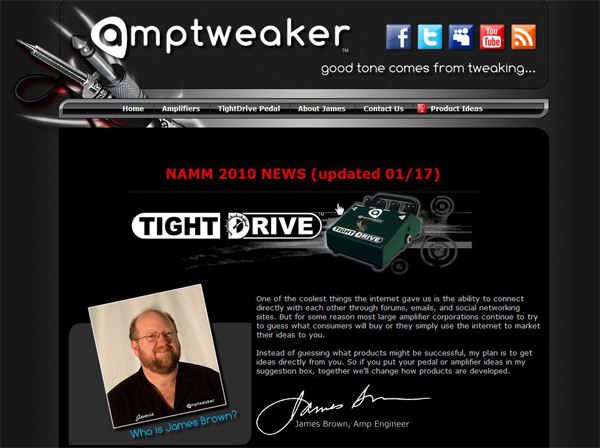 Amptweaker
Inhouse Associates has consistently provided excellent leadership to the process of developing and maintaining my company's website and related software. They are excellent at offering creative ideas for web methods that will fit within my budget, and have been a true partner to my business in the ongoing development of this extremely valuable tool.
My web presence involves more than just marketing tools, since I rely on it to gather customer feedback for product development.....this somewhat unique situation created many challenges for Inhouse, but Robert Brown and his team managed to put together a system very quickly that not only streamlines my process, but also makes my tiny start-up company appear equal to the biggest competitors in my business.
James Brown
Amptweaker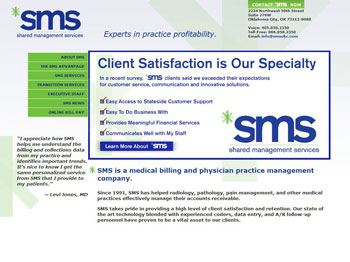 SMS has worked with Inhouse Associates since 2005
Jason Houser and the team he has assembled at Inhouse Associates is top notch. We have worked with them for several years now and could not be more pleased with the services they provide. They are a personable company; they are reliable, responsive, creative, and full of integrity. I would recommend Inhouse Associates to anyone in need of IT Services. Not only have we tapped into their Programming Services but they also created and currently maintain our company website. We could not be more pleased with the results and our relationship with Inhouse Associates; a relationship we hope continues for years to come. SMS prides itself on providing personal service to our clients, so it is nice that we get that type of service from Inhouse Associates.
Rob Gregg
Shared Management Services, Inc.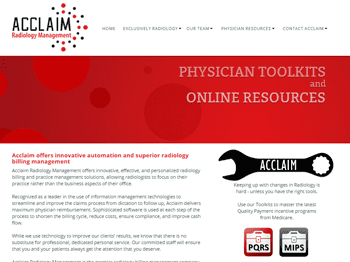 Cutting Edge Medical Claim Submission Software Programming
Acclaim Radiology Management had worked with a national software company for almost two years to implement a cutting-edge, automated medical procedure coding system. We were unable to find a programmer to assist us with the specialized, custom work that was needed to interface our IBM AS400 mainframe computer, our claims submission software, and the coding software with the diverse systems in use by our clients' hospitals. In addition, those hospitals, each with unique information systems, were unable and/or unwilling to provide us with their source code or file maps of the data we needed to capture.
We have worked successfully with Inhouse on other projects so we asked if they could help us. Even though they told us up front they were not experienced with the AS400, in about two hours they wrote a program to reorganize the diverse hospital databases into a usable format. The work Inhouse Assocoates did for us enabled our company to save 159 employee-hours every week, or $107,000.00 annually!
Cynthia M. Pittmon
Owner
Acclaim Radiology Management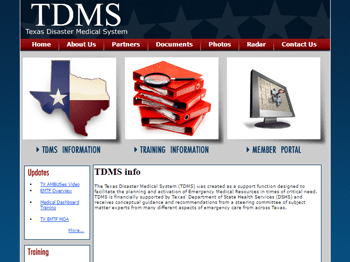 Inhouse Associates meets website design deadlines
I have used Inhouse Associates in my current position and my previous employment. I chose to use them again because of my very positive experiences I received in the past. The Inhouse crew are very capable of meeting harsh deadlines and creating and operationalizing projects that are out of the normal scope of work.
I turned to Inhouse Associates because I knew they could get it done and they proved to be spot on.
Victor Wells
Texas Disaster Medical System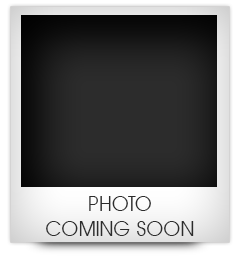 Excellent Personalized Service
Excellent technical expertise, fast and efficient project turnaround, commitment to quality...these are the benefits I enjoy on a daily basis working with the staff at Inhouse Associates, LC. They are consistently available as a sounding board for new ideas as well as for the implementation of high profile, short time frame projects.
Together we have accomplished many innovative projects that have achieved a positive presence for www.gsmc.org and have extended and complimented existing GSHS services using Internet technology. Inhouse is attentive to the goals and priorities of their clients ... they embody their clients' vision and work as partners in accomplishing and even surpassing their goals.
The Great Expectations Newborn Nursery, our online newborn photo site, has been in place for two months and we are proud that over 70 newborns are published on the site. Inhouse counseled us on the design of the site to assure that it would be compatible with most browsers in use today as well as assuring an efficient system to process the photos online. An administrative section, accessible by user id and password, is used to upload new photos and information on a daily basis. With this feature, we gain independence in maintaining our web site while providing 72 hour turnaround on parents' requests.
Inhouse was instrumental in the development of our physician directory. The Good Shepherd Health Network (GSHN) physician directory is a dynamic site built from a SQL database that resides at our main facility. This process requires no manual intervention and assures the most accurate information on GSHN physicians.
GSHS has a long tradition of commitment to community health and our Internet services are no different in that respect. We demand quality, excellence and accuracy in all aspects of our web site and Inhouse has been a true partner in our success. Congratulations to Inhouse on a job well done!
Kristin Ater
Director of Internet Health Services
Good Shepherd Health System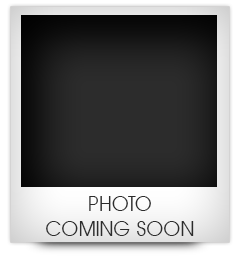 Inhouse Associates is a great example of an entrepreneur
Steve Gordon and Jason Houser, co-owners of Inhouse Associates, are a great example of entrepreneurs. They are committed to their business, community, and family! Inhouse Associates has worked with the Longview Partnership on several key projects such as Business Expo. We are very proud that they are a member of our chamber of commerce!
Kelly Hall, CCE
President Longview Chamber of Commerce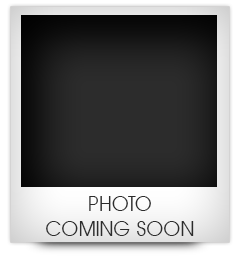 Inhouse Associates delivers quality websites
Inhouse Associates delivered a quality website that met our needs rapidly and at a very reasonable price. They can build simple websites or very complex websites with data handling, document control and intranet communications.
I can wholeheartedly recommend Inhouse Associates for anyone needing website design and development in the East Texas area.
Steve Dart
Chemring Millitary Products
Formerly Mecar USA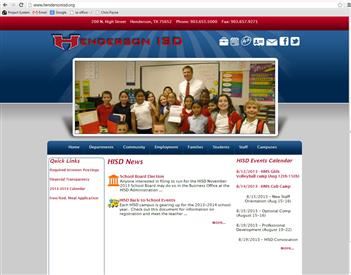 Inhouse Associates are an outstanding group of people.
Inhouse Associates are an outstanding group of people. They provide an excellent product that's reasonably priced.
Shannon Coats
Henderson Independent School District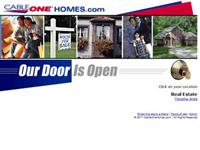 Cable One Homes
The team at Inhouse Associates have done a great job developing and maintaining our websites for real estate. Easy to work with and always willing to improve on the functionality and look of the sites.
Brian Bertrand
Cable One Homes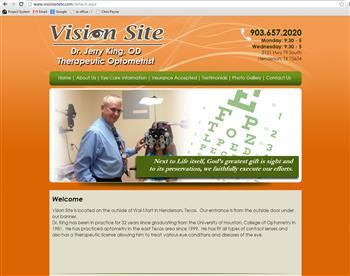 Very Satisfied with Inhouse Associates
I selected Team Inhouse for my website from the recommendations of others. I also met Chris Payne with Inhouse through our business club, Longview Biz Network Group, and he gave a great presentation to the group.  Also, I was previously dissatisfied with a previous designer who had held me hostage to their company when I wished to make a change.  

Inhouse told me of a reasonable monthly service fee and that I could discontinue with you at any time I wished or felt I no longer needed the service.  Also I was impressed that I got to work directly with the designer of the website in determining the ultimate design and look of the finished website. So far, I have had no problems in contacting or getting speedy answers and service in response to any questions or concerns I voiced. I like the look and content of the site. Very satisfied.
Dr. Jerry King
Vision Site
Henderson, TX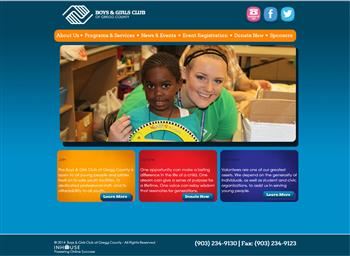 Thanks to Inhouse Associates
The Boys & Girls Club of Gregg County is excited about our new website. Thanks to everyone at Inhouse Associates for going above and beyond to help us tell our story. 
B'Ann Boiles
Executive Director
Boys & Girls Club of Gregg County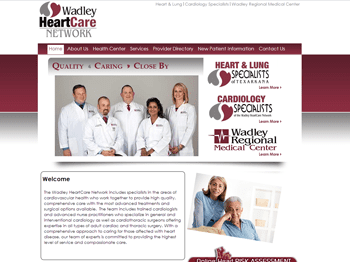 Inhouse Associates Have Proven Track Record
With a proven track record with building both our company's internet and intranet sites it was only natural that when we needed an additional website for our Wadley HeartCare Network, we choose Inhouse Associates.
The 30 day turn around time. We needed a web presence for our newly formed HeartCare Network that could be delivered faster than the option we had through Corporate.
It was very easy to relay both information and concepts to Inhouse and for that to be plugged into the site. Staff at Inhouse were very friendly and accommodating. The end result was exactly as promised.
Wadley Regional Medical Center has been a customer since 2005.  Over this period of time Inhouse Associates has consistently provided me with outstanding customer support. Whether it be for a mundane copy correction or a much bigger support issue, the outcome has always been the same...timely, friendly & knowledgeable support. 
Doug Breckweg
Wadley Regional Medical Center
Marketing and Graphic Design Specialist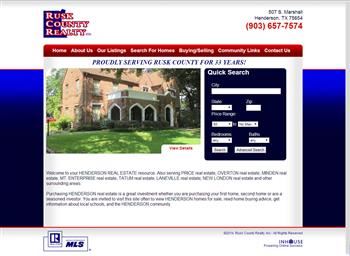 Inhouse Associates is a Friendly and Knowledgeable Company
We were impressed with the friendliness and knowledge of Inhouse Associates. They were local and we felt like they would be readily available to answer our questions and meet our needs in a timely manner. 

We felt very comfortable just talking to them and their work with other websites looked great. I would tell anyone to jump off the fence to the Inhouse Associates' side. They will take care of you.
Bobby Miller
Agent
Rusk County Realty
Henderson, TX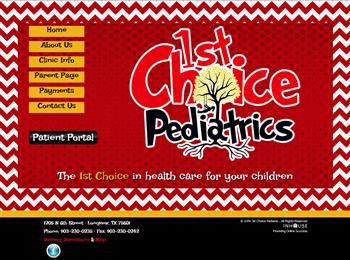 Putting Every Detail in Place
Thanks to the entire Inhouse Associates team for getting 1st Choice Pediatrics on the Web! 
 
We had a very specific design in mind for our website, and the team at Inhouse put every detail into place. It is exactly what we envisioned! Joannie Houser at Inhouse responded quickly (often within minutes) to every email I sent, making multiple alterations until we were completely satisfied. 
Michelle McCaskill, MS. PA-C
1st Choice Pediatrics
Longview, Texas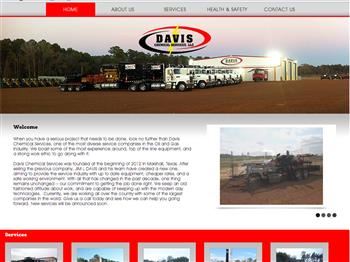 Great Work Delivered on Time
We lucked out when we found Inhouse Associates. Not only were they on time -- they did a great job. 
Lyle Nicholson
Davis Chemical Services
Longview, TX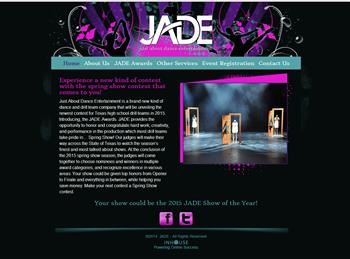 Just About Dance Entertainment
Inhouse Associates was amazing to work with. They were very timely and professional, and helped build me a website that I am proud to use to start my new business.
Leanne Mendez
Owner
Just About Dance Entertainment
Rockwall, TX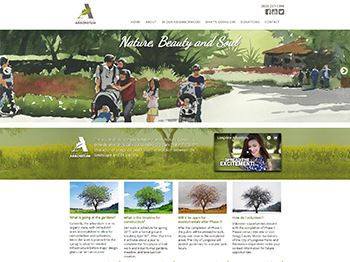 I recommend hiring Inhouse Associates to build a website
"I recommend hiring InHouse Associates to build a website. The Longview Arboretum and Nature Center team brought InHouse a list of needs and ideas, and they took that as a leaping point to build our outstanding site. They listened to us, and built a site that functions exactly as we wanted. The upside is, it was created in such a way we can expand as our garden grows."  
Kimberly Fish
Board Member
Longview Arboretum and Nature Center
Longview, Texas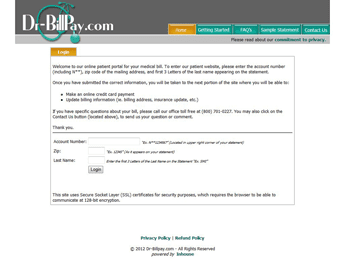 Making the Process Easy
Inhouse Associates was great to work with! They made the whole website building process very easy for someone like myself, who is not all that great with technology. All I had to do was provide some details that I was looking for, website wording and photos and they took care of the rest. THANK YOU!
Gary C. Mellinger
Chief Operating Officer
Synergistic Systems
Encino, CA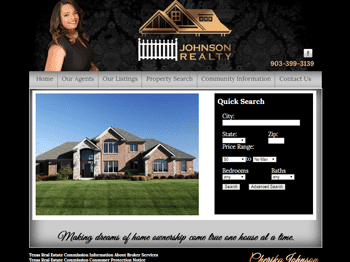 Making it Happen
I was unhappy with the look of my current website and I made a call to Chris Payne and gave him and the Inhouse team my vision for my new website. And they made it happen! I just handed everything over to them and they went to work. I am completely satisfied and LOVE the new look! Great Job!
Cherika Johnson
Realtor
Longview, TX