If you can imagine it.
We can build.
Or maybe, we already have.
Focused.
Determined.
Team Oriented.
We are proud of our work!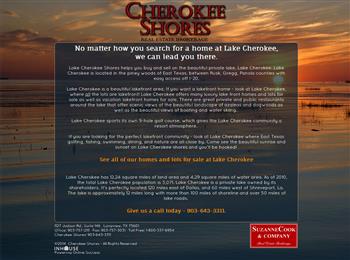 Cherokee Shores Real Estate Brokerage
Project Info
No matter how you search for a home at Lake Cherokee, Cherokee Shores Real Estate Brokerage can lead you there. Lake Cherokee is a beautiful lakefront area. If you want a lakefront home - look at Lake Cherokee, where all the lots are lakefront! Lake Cherokee offers many luxury lake front homes and lots for sale as well as vacation lakefront homes for sale. There are great private and public restaurants around the lake that offer scenic views of the beautiful landscape of azaleas and dogwoods as well as the beautiful views of boating and water skiing. Cherokee Shores Real Estate Brokerage, is a Suzanne Cook Company.
Skills:
Our customers say:
SMS has worked with Inhouse Associates since 2005
Jason Houser and the team he has assembled at Inhouse Associates is top notch. We have worked with them for several years now and could not be more pleased with the services they provide. They are a personable company; they are reliable, responsive, creative, and full of integrity. I would recommend Inhouse Associates to anyone in need of IT Services. Not only have we tapped into their Programming Services but they also created and currently maintain our company website. We could not be more pleased with the results and our relationship with Inhouse Associates; a relationship we hope continues for years to come. SMS prides itself on providing personal service to our clients, so it is nice that we get that type of service from Inhouse Associates.
Rob Gregg
Shared Management Services, Inc.