Over 20 years of
Making your Business
Our Business!
If you can imagine it.
We can build.
Or maybe, we already have.
Focused.
Determined.
Team Oriented.
Due to the current mandatory shelter-in-place order for Covid-19, a lot of businesses are being temporarily halted.
Since we provide "IT support" for medical and other essential businesses, we are considered essential.
We are open for business.
Please know that we will continue to be here for you. Although we are in uncharted territory now, we have the ability to meet virtually if not in person. If you need to address any changes or updates to your site, email us or give us a call at 903-753-3551.
We are proud of our work!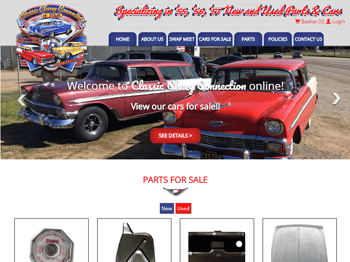 Project Info
Classic Chevy Connection has been serving the tri-five Chevy car hobbyist for over ten years. They offer quality new and used parts and are dealers for several of the major manufacturers such as Danchuk, CARS, Ididit, Gene Smith, Vintage Air, Repops, just to name a few. They also have available refurbished items such as re-chromed bumpers, wiper motors, rebuilt instrument dash gauges, and some new old stock items and we have cars for sale. 
Classic Chevy Connection became a client of Inhouse Associates in 2008. In 2019, Inhouse revamped the website and added the online shopping catalog.
Skills:
Our customers say:
Inhouse Associates is a Friendly and Knowledgeable Company
We were impressed with the friendliness and knowledge of Inhouse Associates. They were local and we felt like they would be readily available to answer our questions and meet our needs in a timely manner. 

We felt very comfortable just talking to them and their work with other websites looked great. I would tell anyone to jump off the fence to the Inhouse Associates' side. They will take care of you.
Bobby Miller
Agent
Rusk County Realty
Henderson, TX