Over 20 years of
Making your Business
Our Business!
If you can imagine it.
We can build.
Or maybe, we already have.
Focused.
Determined.
Team Oriented.
We are proud of our work!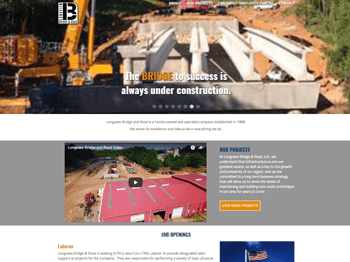 Project Info
Longview Bridge & Road, Ltd. understands that infrastructure is a greatest asset, as well as a key to the growth and prosperity of our region, and they are committed to a long term business strategy that will allow the company to serve the needs of maintaining and building new roads and bridges in East Texas for years to come. Founded in 1989 by CEO Larry Johnson, with offices in Longview and Nacogdoches, Longview Bridge & Road, Ltd. is the leading heavy highway contractor in the East Texas region. Longview Bridge & Road, Ltd. operates on the team concept with many skilled, experienced staff and field team members  committed to execute our projects, from beginning to end, in the safest, most efficient manner possible using cutting edge technology guided by their years of experience.
Skills:
Our customers say:
Inhouse Associates meets website design deadlines
I have used Inhouse Associates in my current position and my previous employment. I chose to use them again because of my very positive experiences I received in the past. The Inhouse crew are very capable of meeting harsh deadlines and creating and operationalizing projects that are out of the normal scope of work.
I turned to Inhouse Associates because I knew they could get it done and they proved to be spot on.
Victor Wells
Texas Disaster Medical System