Over 20 years of
Making your Business
Our Business!
If you can imagine it.
We can build.
Or maybe, we already have.
Focused.
Determined.
Team Oriented.
We are proud of our work!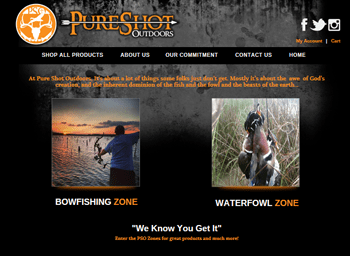 Project Info
Pure Shot Outdoors, LLC. offers products from quality manufacturer's and of their own design to help you get the most from your outdoor adventures. PSO is fortunate to be surrounded by fellow outdoorsmen from all walks of life who contribute to the company in product development, field testing, business operations and technology.

To find out more about Pure Shot Outdoors, go to our website, www.pureshotoutdoors.com
Skills:
Our customers say:
Excellent Personalized Service
Excellent technical expertise, fast and efficient project turnaround, commitment to quality...these are the benefits I enjoy on a daily basis working with the staff at Inhouse Associates, LC. They are consistently available as a sounding board for new ideas as well as for the implementation of high profile, short time frame projects.
Together we have accomplished many innovative projects that have achieved a positive presence for www.gsmc.org and have extended and complimented existing GSHS services using Internet technology. Inhouse is attentive to the goals and priorities of their clients ... they embody their clients' vision and work as partners in accomplishing and even surpassing their goals.
The Great Expectations Newborn Nursery, our online newborn photo site, has been in place for two months and we are proud that over 70 newborns are published on the site. Inhouse counseled us on the design of the site to assure that it would be compatible with most browsers in use today as well as assuring an efficient system to process the photos online. An administrative section, accessible by user id and password, is used to upload new photos and information on a daily basis. With this feature, we gain independence in maintaining our web site while providing 72 hour turnaround on parents' requests.
Inhouse was instrumental in the development of our physician directory. The Good Shepherd Health Network (GSHN) physician directory is a dynamic site built from a SQL database that resides at our main facility. This process requires no manual intervention and assures the most accurate information on GSHN physicians.
GSHS has a long tradition of commitment to community health and our Internet services are no different in that respect. We demand quality, excellence and accuracy in all aspects of our web site and Inhouse has been a true partner in our success. Congratulations to Inhouse on a job well done!
Kristin Ater
Director of Internet Health Services
Good Shepherd Health System