Over 20 years of
Making your Business
Our Business!
If you can imagine it.
We can build.
Or maybe, we already have.
Focused.
Determined.
Team Oriented.
We are proud of our work!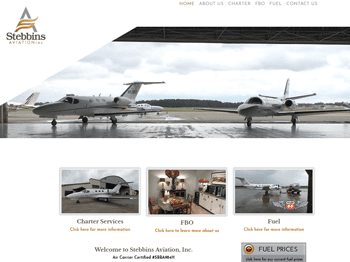 Project Info
Stebbins Aviation has been providing excellent service by trained and experienced personnel since 1987. Located at the north end of the 10,000 ft runway, they offer competitive fuel prices with bulk discounts and hangar space upon request. They are open 7 days a week from 6am-9pm and offer after hours call-out services. Go to Stebbins Aviation and let them assist you with your travel whether it's a Quick Turn, a Layover, or Jet Charter Service. 
Skills:
Our customers say:
Choosing Inhouse Associates was a wise decision.
I have been quite pleased with my association with Inhouse Associates. They have worked closely with the college to give us a very effective and comprehensive database-driven website at an extremely reasonable cost. At every stage in the process, from initial discussions to implementation to ongoing maintenance we have found them to be knowledgeable and responsive to our needs. Choosing Inhouse Associates was a wise decision. 
Bill Gibbs
Former Director of Marketing
Kilgore College