Over 20 years of
Making your Business
Our Business!
If you can imagine it.
We can build.
Or maybe, we already have.
Focused.
Determined.
Team Oriented.
We are proud of our work!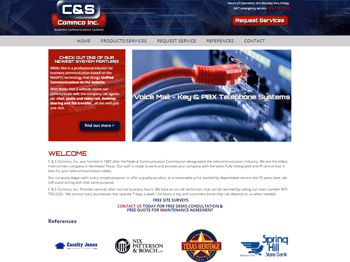 Project Info
C & S Commco, Inc. was formed in 1983 after the Federal Communication Commission deregulated the telecommunication industry. The company began with a very simple purpose: to offer a quality product, at a reasonable price, backed by dependable service. Presently, we have 7 full time technicians, installers and technical supervisors. For our customers, this means we have the staff available to handle normal service and installation, emergency situations, and the technical expertise to come up with the solutions to the "knotty" problems that arise every now and then. 

After normal business hours, we have a primary on-call technician. We service many businesses that operate 7 days a week/ 24 hours a day and those customers know they can depend on us when we are needed. 
Skills:
Our customers say:
Cutting Edge Medical Claim Submission Software Programming
Acclaim Radiology Management had worked with a national software company for almost two years to implement a cutting-edge, automated medical procedure coding system. We were unable to find a programmer to assist us with the specialized, custom work that was needed to interface our IBM AS400 mainframe computer, our claims submission software, and the coding software with the diverse systems in use by our clients' hospitals. In addition, those hospitals, each with unique information systems, were unable and/or unwilling to provide us with their source code or file maps of the data we needed to capture.
We have worked successfully with Inhouse on other projects so we asked if they could help us. Even though they told us up front they were not experienced with the AS400, in about two hours they wrote a program to reorganize the diverse hospital databases into a usable format. The work Inhouse Assocoates did for us enabled our company to save 159 employee-hours every week, or $107,000.00 annually!
Cynthia M. Pittmon
Owner
Acclaim Radiology Management