If you can imagine it.
We can build.
Or maybe, we already have.
Focused.
Determined.
Team Oriented.
We are proud of our work!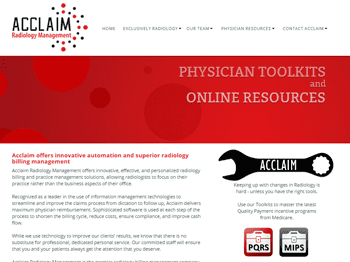 Acclaim Radiology Management
Project Info
Acclaim Radiology Management offers innovative, effective, and personalized radiology billing and practice management solutions, allowing radiologists to focus on their practice rather than the business aspects of their office.

Recognized as a leader in the use of information management technologies to streamline and improve the claims process from dictation to follow up, Acclaim delivers maximum physician reimbursement. Sophisticated software is used at each step of the process to shorten the billing cycle, reduce costs, ensure compliance, and improve cash flow.
Skills:
Our customers say:
Choosing Inhouse Associates was a wise decision.
I have been quite pleased with my association with Inhouse Associates. They have worked closely with the college to give us a very effective and comprehensive database-driven website at an extremely reasonable cost. At every stage in the process, from initial discussions to implementation to ongoing maintenance we have found them to be knowledgeable and responsive to our needs. Choosing Inhouse Associates was a wise decision. 
Bill Gibbs
Former Director of Marketing
Kilgore College