Over 20 years of
Making your Business
Our Business!
If you can imagine it.
We can build.
Or maybe, we already have.
Focused.
Determined.
Team Oriented.
We are proud of our work!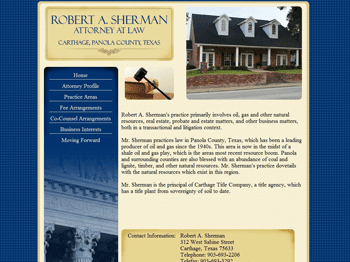 Robert A. Sherman, Attorney at Law
Project Info
Robert A. Sherman's practice primarily involves oil, gas and other natural resources, real estate, probate and estate matters, and other business matters, both in a transactional and litigation context.
Mr. Sherman practices law in Panola County, Texas, which has been a leading producer of oil and gas since the 1940s. This area is now in the midst of a shale oil and gas play, which is the areas most recent resource boom. Panola and surrounding counties are also blessed with an abundance of coal and lignite, timber, and other natural resources. Mr. Sherman's practice dovetails with the natural resources which exist in this region.
Our customers say:
Needless to say I was clueless
This is the first time I've ever been involved in creating a website so needless to say I was clueless.  But, I had an idea of what I wanted the site to look like and what information to include.  I just didn't know the mechanics of it.  Both Steve and Joannie were extremely patient in answering my questions, making changes and even a few additions.  I didn't have a clue how time-consuming creating a website is … and we hired them to do 3 websites for 3 different companies.  After the first, it went much quicker but it was a huge learning experience for me and management is very pleased with the results.  Not only were Steve and Joannie very patient but their creative expertise was invaluable. 
Donna Leidecker
Longview Bridge & Road Ltd.