Over 20 years of
Making your Business
Our Business!
If you can imagine it.
We can build.
Or maybe, we already have.
Focused.
Determined.
Team Oriented.
We are proud of our work!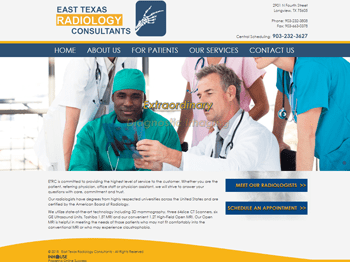 East Texas Radiology Consultants
Project Info
East Texas Radiology Consultants is comprised of six board-certified radiologists who live in East Texas. All of the radiologists have degrees from highly respected universities across the United States and are certified by the American Board of Radiology. They are committed to providing extraordinary diagnostic imaging services to Longview, TX and surrounding area communities.
Serving East Texas for over 35 years, East Texas Radiology Consultants (ETRC) is committed to providing patients with optimal diagnostic imaging and radiological services. They combine the latest in technology with personal, individual attention. They utilize state-of-the-art technology including 3D mammography, three 64slice CT Scanners, six GE Ultrasound Units, Toshiba 1.5T MRI and our convenient 1.2T High-Field Open MRI. Our Open MRI is helpful in meeting the needs of those patients who may not fit comfortably into the conventional MRI or who may experience claustrophobia.
ETRC is committed to providing the highest level of service to the customer. Whether you are the patient, referring physician, office staff or physician assistant, they strive to answer your questions with care, commitment and trust.
Skills:
Our customers say:
SMS has worked with Inhouse Associates since 2005
Jason Houser and the team he has assembled at Inhouse Associates is top notch. We have worked with them for several years now and could not be more pleased with the services they provide. They are a personable company; they are reliable, responsive, creative, and full of integrity. I would recommend Inhouse Associates to anyone in need of IT Services. Not only have we tapped into their Programming Services but they also created and currently maintain our company website. We could not be more pleased with the results and our relationship with Inhouse Associates; a relationship we hope continues for years to come. SMS prides itself on providing personal service to our clients, so it is nice that we get that type of service from Inhouse Associates.
Rob Gregg
Shared Management Services, Inc.