Over 20 years of
Making your Business
Our Business!
If you can imagine it.
We can build.
Or maybe, we already have.
Focused.
Determined.
Team Oriented.
We are proud of our work!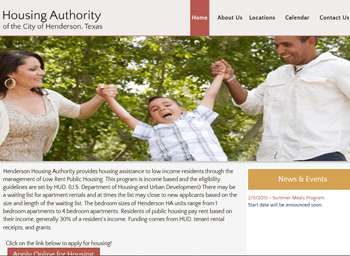 Henderson Housing Authority
Project Info
Henderson Housing Authority provides housing assistance to low income residents through the management of Low Rent Public Housing. This program is income based and the eligibility guidelines are set by HUD (U.S. Department of Housing and Urban Development).
If you or a family member is in need of housing assistance, go to www.hendersonhousingauthority.com to see how they can help you.
Skills:
Our customers say:
Great Work Delivered on Time
We lucked out when we found Inhouse Associates. Not only were they on time -- they did a great job. 
Lyle Nicholson
Davis Chemical Services
Longview, TX