Over 20 years of
Making your Business
Our Business!
If you can imagine it.
We can build.
Or maybe, we already have.
Focused.
Determined.
Team Oriented.
We are proud of our work!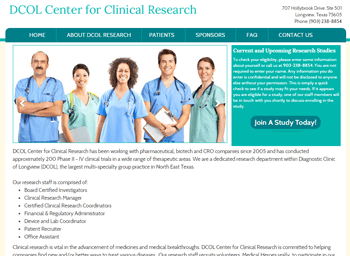 Project Info
DCOL Center for Clinical Research has been working with pharmaceutical, biotech and CRO companies since 2005 and has conducted approximately 200 Phase II - IV clinical trials in a wide range of therapeutic areas. They are a dedicated research department within Diagnostic Clinic of Longview (DCOL), the largest multi-specialty group practice in North East Texas.

To find out more about them, go to their website, www.dcolresearch.com
Skills:
Our customers say:
Inhouse is the BEST!
Inhouse Associates is the best! You are accessible, easy to contact, prompt in response or problem solving and always communicate effectively if a task is completed or not.

I have enjoyed our years working relationship and feel fortunate to have a company of your caliber in our community.

The League of Business Owners not only wants to bring revenue to our area, but also to keep revenue in our area.

Again, thanks for your help and support of Party in the Pines Motorcycle Rally.
Jana Smith
League of Business Owners
Pinerally.com Motorcycle Rally Site