If you can imagine it.
We can build.
Or maybe, we already have.
Focused.
Determined.
Team Oriented.
We are proud of our work!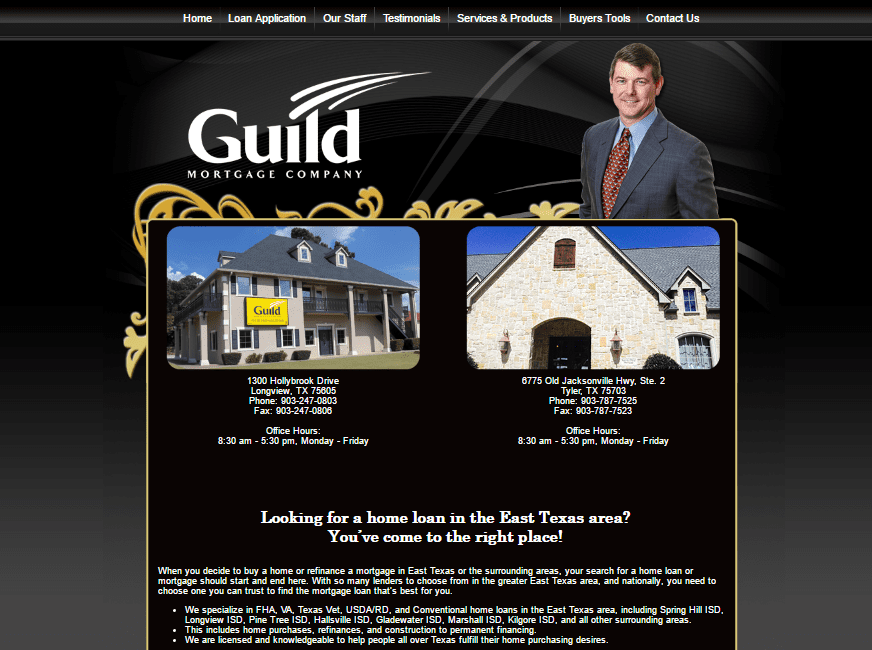 Tom Holyfield, Guild Mortgage Company
Project Info
When you decide to buy a home or refinance a mortgage in East Texas or the surrounding areas, your search for a home loan or mortgage should start and end with Guild Mortgage Company. With so many lenders to choose from in the greater East Texas area, and nationally, you need to choose one you can trust to find the mortgage loan that's best for you. Tom Holyfield and his staff can help you
Guild Mortgage Company specialize in FHA, VA, Texas Vet, USDA/RD, and Conventional home loans in the East Texas area, including Spring Hill ISD, Longview ISD, Pine Tree ISD, Hallsville ISD, Gladewater ISD, Marshall ISD, Kilgore ISD, and all other surrounding areas. This includes home purchases, refinances, and construction to permanent financing.
Skills:
Our customers say:
Cutting Edge Medical Claim Submission Software Programming
Acclaim Radiology Management had worked with a national software company for almost two years to implement a cutting-edge, automated medical procedure coding system. We were unable to find a programmer to assist us with the specialized, custom work that was needed to interface our IBM AS400 mainframe computer, our claims submission software, and the coding software with the diverse systems in use by our clients' hospitals. In addition, those hospitals, each with unique information systems, were unable and/or unwilling to provide us with their source code or file maps of the data we needed to capture.
We have worked successfully with Inhouse on other projects so we asked if they could help us. Even though they told us up front they were not experienced with the AS400, in about two hours they wrote a program to reorganize the diverse hospital databases into a usable format. The work Inhouse Assocoates did for us enabled our company to save 159 employee-hours every week, or $107,000.00 annually!
Cynthia M. Pittmon
Owner
Acclaim Radiology Management