Over 20 years of
Making your Business
Our Business!
If you can imagine it.
We can build.
Or maybe, we already have.
Focused.
Determined.
Team Oriented.
We are proud of our work!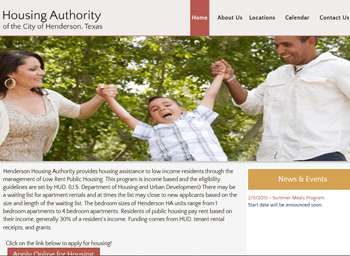 Henderson Housing Authority
Project Info
Henderson Housing Authority provides housing assistance to low income residents through the management of Low Rent Public Housing. This program is income based and the eligibility guidelines are set by HUD (U.S. Department of Housing and Urban Development).
If you or a family member is in need of housing assistance, go to www.hendersonhousingauthority.com to see how they can help you.
Skills:
Our customers say:
Amptweaker
Inhouse Associates has consistently provided excellent leadership to the process of developing and maintaining my company's website and related software. They are excellent at offering creative ideas for web methods that will fit within my budget, and have been a true partner to my business in the ongoing development of this extremely valuable tool.
My web presence involves more than just marketing tools, since I rely on it to gather customer feedback for product development.....this somewhat unique situation created many challenges for Inhouse, but Robert Brown and his team managed to put together a system very quickly that not only streamlines my process, but also makes my tiny start-up company appear equal to the biggest competitors in my business.
James Brown
Amptweaker