Over 20 years of
Making your Business
Our Business!
If you can imagine it.
We can build.
Or maybe, we already have.
Focused.
Determined.
Team Oriented.
We are proud of our work!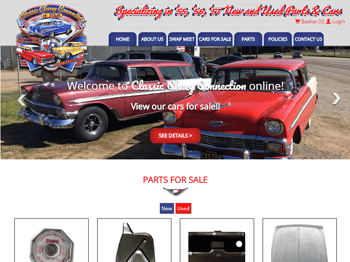 Project Info
Classic Chevy Connection has been serving the tri-five Chevy car hobbyist for over ten years. They offer quality new and used parts and are dealers for several of the major manufacturers such as Danchuk, CARS, Ididit, Gene Smith, Vintage Air, Repops, just to name a few. They also have available refurbished items such as re-chromed bumpers, wiper motors, rebuilt instrument dash gauges, and some new old stock items and we have cars for sale. 
Classic Chevy Connection became a client of Inhouse Associates in 2008. In 2019, Inhouse revamped the website and added the online shopping catalog.
Skills:
Our customers say:
Needless to say I was clueless
This is the first time I've ever been involved in creating a website so needless to say I was clueless.  But, I had an idea of what I wanted the site to look like and what information to include.  I just didn't know the mechanics of it.  Both Steve and Joannie were extremely patient in answering my questions, making changes and even a few additions.  I didn't have a clue how time-consuming creating a website is … and we hired them to do 3 websites for 3 different companies.  After the first, it went much quicker but it was a huge learning experience for me and management is very pleased with the results.  Not only were Steve and Joannie very patient but their creative expertise was invaluable. 
Donna Leidecker
Longview Bridge & Road Ltd.