Over 20 years of
Making your Business
Our Business!
If you can imagine it.
We can build.
Or maybe, we already have.
Focused.
Determined.
Team Oriented.
We are proud of our work!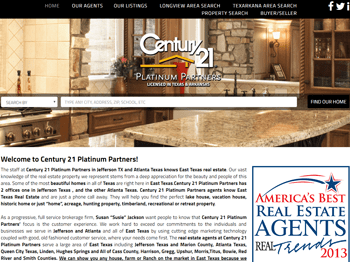 Century 21 Platinum Partners
Project Info
Century 21 Platinum Partners agents know East Texas real estate. Their vast knowledge of the real estate properties they offer stems from a deep appreciation for the beauty and people of this area. Century 21 Platinum Partners has 2 offices one in Jefferson Texas, and the other Atlanta Texas. 
Skills:
Our customers say:
Thanks to Inhouse Associates
The Boys & Girls Club of Gregg County is excited about our new website. Thanks to everyone at Inhouse Associates for going above and beyond to help us tell our story. 
B'Ann Boiles
Executive Director
Boys & Girls Club of Gregg County