If you can imagine it.
We can build.
Or maybe, we already have.
Focused.
Determined.
Team Oriented.
We are proud of our work!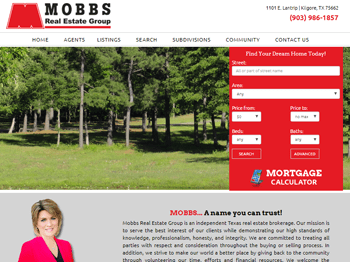 Project Info
Mobbs Real Estate Group is an independent Texas real estate brokerage. Mobb's Real Estate Group's mission is to serve the best interest of their clients while demonstrating their high standards of knowledge, professionalism, honesty, and integrity. They are committed to treating all parties with respect and consideration throughout the buying or selling process. In addition, they strive to make the world a better place by giving back to the community through volunteering time, efforts and financial resources. They welcome the opportunity to get to know you and help you with your real estate needs.
Skills:
Our customers say:
Cutting Edge Medical Claim Submission Software Programming
Acclaim Radiology Management had worked with a national software company for almost two years to implement a cutting-edge, automated medical procedure coding system. We were unable to find a programmer to assist us with the specialized, custom work that was needed to interface our IBM AS400 mainframe computer, our claims submission software, and the coding software with the diverse systems in use by our clients' hospitals. In addition, those hospitals, each with unique information systems, were unable and/or unwilling to provide us with their source code or file maps of the data we needed to capture.
We have worked successfully with Inhouse on other projects so we asked if they could help us. Even though they told us up front they were not experienced with the AS400, in about two hours they wrote a program to reorganize the diverse hospital databases into a usable format. The work Inhouse Assocoates did for us enabled our company to save 159 employee-hours every week, or $107,000.00 annually!
Cynthia M. Pittmon
Owner
Acclaim Radiology Management