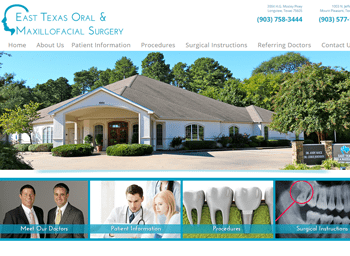 East Texas Oral and Maxillofacial Surgery Associates
Project Info
East Texas Oral and Maxillofacial Surgery Associates was established in 1982 with Dr. Jay Gordon & Dr. David Haverkorn. Dr. Andy Mack joined the practice in 1989,  and recently Dr. Chris Johnson joined in 2013. 
The staff is what makes their office unique.  In addition to friendly, efficient service, you'll receive caring personal support during every phase of your treatment.  Their staff is made up of certified surgical assistant, insurance specialists and knowledgeable personnel who are well-versed in healthcare procedures. 
Skills:
Being in business since 1998, some clients will come and go. That doesn't mean we aren't proud of the work we did when they were with us. This project is shown for historical purposes.