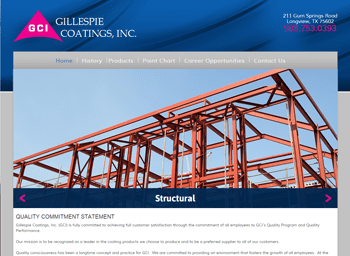 Project Info
Gillespie Coatings, Inc. (GCI) is fully committed to achieving full customer satisfaction through the commitment of all employees to GCI's Quality Program and Quality Performance.

Their mission is to be recognized as a leader in the coating products they choose to produce and to be a preferred supplier to all of their customers.

Quality consciousness has been a longtime concept and practice for GCI. They are committed to providing an environment that fosters the growth of all employees. At the same time, they recognize quality maintenance and quality improvement under a structural procedure that is not negotiable and is essential to their corporate existence.
Skills: