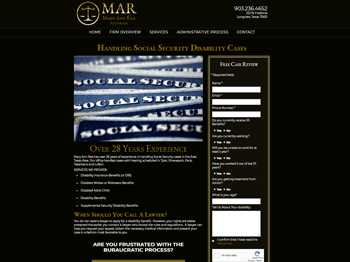 Project Info
Mary Ann Rea has over 28 years of experience in handling Social Security cases in the East Texas area. Her office handles cases with hearings scheduled in Tyler, Shreveport, Paris, Texarkana, and Lufkin.
Ms. Rea serves Social Security claimants throughout all East Texas communities and handles appeals at every level of the administrative process. This includes Applications, Requests for Reconsideration, and Requests for Hearings.
The initial consultation is free. If she takes your case there is no fee unless your case results in the payment of retroactive benefits. 
Skills:
Being in business since 1998, some clients will come and go. That doesn't mean we aren't proud of the work we did when they were with us. This project is shown for historical purposes.