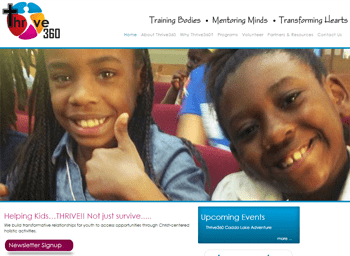 Project Info
The Thrive 360 group values engaging youth in habit formation while working with strategic partnerships throughout the community. The organization is Christ-centered; weaving the gospel into the daily lives of youth.
Thrive 360 organization has data that demonstrates the effectiveness of youth who are involved in long-term support and relationships are more likely to form their own healthy relationships as adults. To find out more about the Thrive 360 program go to their website at www.thrive360.net
Skills:
Being in business since 1998, some clients will come and go. That doesn't mean we aren't proud of the work we did when they were with us. This project is shown for historical purposes.