Over 20 years of
Making your Business
Our Business!
If you can imagine it.
We can build.
Or maybe, we already have.
Focused.
Determined.
Team Oriented.
We are proud of our work!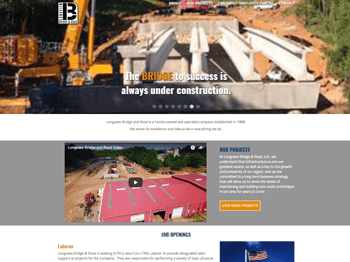 Project Info
Longview Bridge & Road, Ltd. understands that infrastructure is a greatest asset, as well as a key to the growth and prosperity of our region, and they are committed to a long term business strategy that will allow the company to serve the needs of maintaining and building new roads and bridges in East Texas for years to come. Founded in 1989 by CEO Larry Johnson, with offices in Longview and Nacogdoches, Longview Bridge & Road, Ltd. is the leading heavy highway contractor in the East Texas region. Longview Bridge & Road, Ltd. operates on the team concept with many skilled, experienced staff and field team members  committed to execute our projects, from beginning to end, in the safest, most efficient manner possible using cutting edge technology guided by their years of experience.
Skills:
Our customers say:
Inhouse Associates delivers quality websites
Inhouse Associates delivered a quality website that met our needs rapidly and at a very reasonable price. They can build simple websites or very complex websites with data handling, document control and intranet communications.
I can wholeheartedly recommend Inhouse Associates for anyone needing website design and development in the East Texas area.
Steve Dart
Chemring Millitary Products
Formerly Mecar USA