Over 20 years of
Making your Business
Our Business!
If you can imagine it.
We can build.
Or maybe, we already have.
Focused.
Determined.
Team Oriented.
We are proud of our work!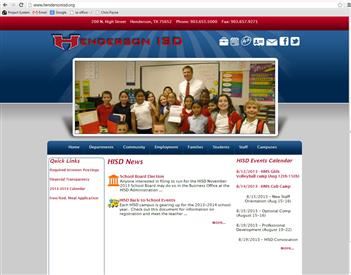 Project Info
By 1952, Henderson ISD included the following other area school districts: Bethel, Crim's Chapel, Ebenezer, Grandview, Hickey, Motley, New Hope, Oakland, Pinehill, and Roquemore were the first communities merged into Henderson ISD. The district constructed a new Henderson High School building in 1953 due to the increased demand for a school building due to the new students coming from the consolidations.
In 2008 Henderson ISD became a client of Inhouse Associates and in 2012, Henderson ISD retained Inhouse Associates again to updated their website.
Our customers say:
Making it Happen
I was unhappy with the look of my current website and I made a call to Chris Payne and gave him and the Inhouse team my vision for my new website. And they made it happen! I just handed everything over to them and they went to work. I am completely satisfied and LOVE the new look! Great Job!
Cherika Johnson
Realtor
Longview, TX