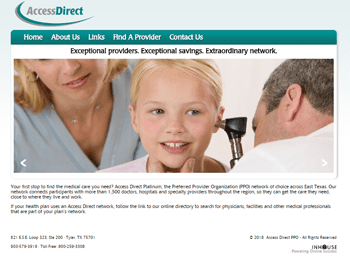 Project Info
AccessDirect PPO Network is a regional network that includes more than 1,300 physicians, hospitals, and ancillary providers in 8 East Texas counties.
Their network includes highly regarded providers and facilities across East Texas. Access Direct PPO's service area covers the following East Texas counties: Camp, Cherokee, Henderson, Panola, Rusk, Smith, Van Zandt, and Wood.
They work with employers, third-party administrators, providers and insurance consultants to create the provider and facility network that best serves each group.
Being in business since 1998, some clients will come and go. That doesn't mean we aren't proud of the work we did when they were with us. This project is shown for historical purposes.