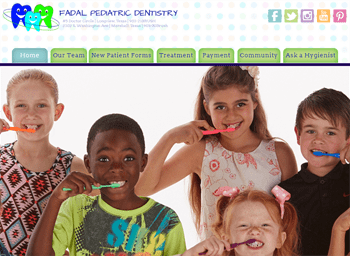 Fadal Pediatric Dentistry
Project Info
The Fadal Pediatric Dentistry has offices in Longview and Marshall Texas. Their dental staff teaches comprehensive oral and dental health care for children from birth through adolescence. They also work with children and adults who have medical disorders and physical disabilities. 
The exceptionally compassionate and caring team will aid your child in feeling comfortable during his/her visit to the dentist office. Children who have their first dental experience when they are very young are likely to have a better opinion of and regard for dental care throughout their life. 
Skills:
Being in business since 1998, some clients will come and go. That doesn't mean we aren't proud of the work we did when they were with us. This project is shown for historical purposes.