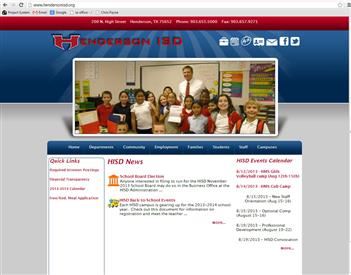 Project Info
By 1952, Henderson ISD included the following other area school districts: Bethel, Crim's Chapel, Ebenezer, Grandview, Hickey, Motley, New Hope, Oakland, Pinehill, and Roquemore were the first communities merged into Henderson ISD. The district constructed a new Henderson High School building in 1953 due to the increased demand for a school building due to the new students coming from the consolidations.
In 2008 Henderson ISD became a client of Inhouse Associates and in 2012, Henderson ISD retained Inhouse Associates again to updated their website.
Being in business since 1998, some clients will come and go. That doesn't mean we aren't proud of the work we did when they were with us. This project is shown for historical purposes.